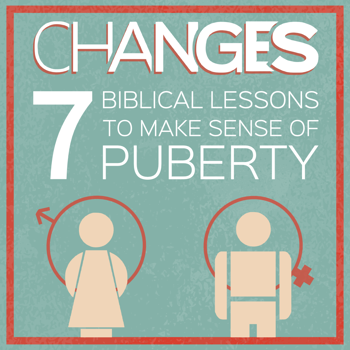 The second book in the devotional series of The Talk (focuses on sex education for families) by Luke and Trisha Gilkerson is
Changes: 7 Lessons to Make Sense of Puberty
which is for ages 8-12. This book covers how Jesus grew, Puberty, Hormones, What to expect for boys and girls, Girl Changes, Boy Changes, and the Goodness of Sexual Attraction. The introduction states how important that we discuss these issues in our families before they learn it from somewhere else.
"As we are able, we want to be the first and dominant voice our kids hear when it comes to the subject of sex." -Luke Gilkerson
These devotions focus on the foundation of building blocks of biblical sexual values in our kids. One of things that is very important is to be open and available for these conversations to take place. It's a great idea to make regular family devotions for your family and at some point you can include these lessons during that time. In this way you are establishing that bond of open and honest conversations.
They also address why it's not too soon to talk about these things as well as this is an ongoing conversation. There is no need to fear, but it's so important that we share the biblical values for the gift God has given to us. We want our kids to get excited for these upcoming changes and also to know how to handle the emotional and physical changes that occur during this season of life. Your kids need to know this information, and what better way than to use a well laid out plan like this curriculum.
My thoughts: I really appreciate the conversations outlined in this book that will make it work to share about this sensitive topic. It's easy to brush it off, but I know that it's better that my kids learn about puberty from me and also with a great resource beside me. I would feel very comfortable using this. Yes, it does cover anatomy, but it's necessary for children to understand these things so they feel prepared to face this new season of life.
I don't know if I was fully prepared for my changing body. It was a very uncertain time in my life and I didn't feel like talking about this at all. Now that I'm a parent, I've started these conversations with my kids who are just 4 and 6. They are not so curious right now, but soon I will be able to use the first book in this series called
The Talk: 7 Lessons to Introduce Your Child to Biblical Sexuality
. Then later as they get a bit older I can use Changes as outlined in this blog post. I'm very excited that I have these resources to help my kids understand all that God has planned for their bodies.
Get the ebook here:
Intoxicated on Life
Use this coupon code (Nest10) for 10% off through November 20 on the products listed below:
Click Family Bible Studies
Look for Changes
or The Sex Ed Series (The Talk and Changes)
Use this code:
Nest10 through November 20 for 10% discount
*I received a complimentary copy of this book for review from the authors. All opinions are my own.*