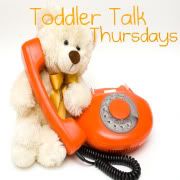 Oh, this was such a tough call! I have so many favorite pictures, but these ones I could look at over and over! I'm just going to say, I realize that Shrade is not smiling in most of these, but that doesn't mean he never smiles. I just had to have these ones for this post!
Shrade and Mama!
Well, he never got a dinosaur, thank goodness!
With his favorite person: Daddy!
My friend Tonia captured this look