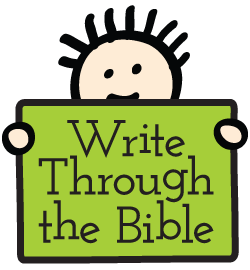 One of the things I'm looking forward to most is teaching my children from the Bible. I am already doing that, but with writing and memorizing with the materials at Intoxicated on Life, I see a great method to make this a solid foundation of God's Word in their hearts.
The newest resource in Write Through the Bible is Proverbs 3:1-26. It's a full year of writing practice focusing on God's Word. This covers memory, handwriting, vocabulary and dictation. There are a few days of copy work, then a day of looking up vocabulary and another day of dictation. There are also review days to copy several verses at once.

What an amazing passage of Scripture to memorize and know that is so full of wisdom and guidance for young boys and girls! I am so excited that I will be able to use this with my children.

I can see all kinds of great learning and review at work here. Also, Intoxicated on Life has some excellent resources for memorizing that you will receive in a link from the ebook.

I encourage you to check out this excellent resource as you teach your children the Word of God.
*I was given a complimentary copy of this book for review. All opinions are my own.*