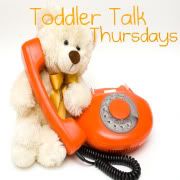 This is a fun one! I used to be a Kindergarten teacher for 12 years and now I get to play games with my little guy, but I have find what is appropriate for his age level. Here are some of the things we do:
"Tent" time with daddy
Dressing up with scarves
Throwing balls down stairs
Tickle time!
I'm hooked up to Toddler Talk Thursday!