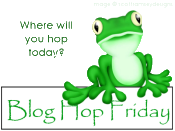 It's Blog Hop Friday and I have a treat for you!
I was asked to review this wonderful ebook by Angie Kauffman called "
Finding Educational Activities in the Most Unexpected Places
." This book was written to help parents/teachers use everyday objects for educational activities. It is not necessary to have all the latest toys to teach your children. You can just look around your house and see what you have and use this book to try fun activities that you can do with your child without having to spend any money.
This book has over 200 easy ideas to incorporate into your life to teach your child and have a blast! I read through this whole book and the activities are very appropriate for toddlers and preschoolers. I chose six activities to play with my son and he loved every one of them.
#1: Our first activity was balloon batting. Shrade had so much fun letting the balloon hit him in the head. He is laughing hysterically in this photo. He played with this for hours and he especially loved it when I "accidentally" hit my head with the balloon too. This was good for gross motor and hand eye coordination as noted by Angie.
#2: Our second activity was finding a hidden treasure in a bucket of cotton balls. I showed Shrade his favorite car and then dropped it in the bucket. He was so excited to dip his hand in the cotton balls. When he found it, he would give it back to me for to put it back in the bucket. This is a great sensory activity.
#3: Snack Buffet was a great activity for Shrade who is learning how to eat different foods. I cut up part of an egg carton and placed four different foods in each of the cups: raisins, cheerios, banana bread cubes and cheese. I was hoping he would try the cheese, but I ended up eating it. When he finished what was in the "snack buffet" he would bring it back for me to fill up.
#4: Egg shakers! My son was so enamored with the plastic eggs during Easter season. When we went to library story time they would hand these out for rhythm time. He always had a hard time giving them back. So I found a few and filled them with rice and taped them. We turned on some music and had a shake fest. Angie says you can fill them with different materials and hear other sounds and compare them. Great idea.
#5: We used poker chips to learn sorting by color. Shrade is just learning colors so this was a bit difficult, but he really liked picking them up which was a good fine motor skill. This activity is best used with bowls as suggested in Angie's book so little ones can make distinctions.
#6: Squishy bag! Angie says you can use hair gel, but we used some
paint
that we made the other day that was squishy enough. My son has difficulty with sensory defensiveness and this activity is a great resource in helping to learn how to overcome that.
There were so many other great treasures in this book that you will have to discover: great books for toddlers and preschoolers, how to dye pasta and of course, the many activities that are easy to use. Angie has a Bachelor's Degree in Elementary Education and a Master's Degree in Special Education. She now is a homeschool mom who also works as a part time therapist. As you can see, her book has a rich background with educational expertise to aid you in giving your child the best education while having fun!