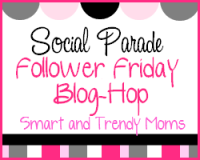 Hi, I'm Shonda and my son just turned 18 months old. I dedicate this blog to teaching and learning. I love to read, cook, knit, travel and blog. I am so glad to meet you. I would love to follow your blog. Be sure to leave your URL. Have a great Friday!
I'm hooked up with:
*
Friendly Friday
*
Follow Me Friday
*
It's a Social Parade
Also, if you have a Kid Friendly post, please link up to my
Kid Friendly Friday
to share. Thanks!