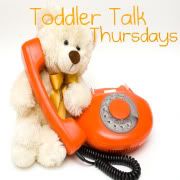 Music is Shrade's favorite time of the day. Whenever I say, "Let's play some music!" He runs over to the CD player and starts bouncing. He has this cute way of bopping up and down when music is on. He even does this at church and everyone gets a kick out of it.
Favorite music? LOTS! I was a Kindergarten teacher for 12 years and I have many albums that I play for Shrade and I've written a few posts on some of our recent favorites:
Music Notes
1.
Veggie Tales: Veggie Tunes, Vol. 2
2.
Mary & Company: 15-Singable Songs
3. Anything by Raffi-
Bananaphone
,
Everything Grows
,
Animal Songs (Dig)
4. Meredith LeVande
What Are the Odds?
5.
Plant A Little Seed songs for growing children (includes sing along CD)
and Little Songs for Little Me by
Nancy Stewart
6.
Buzz Buzz
by Laurie Berkner
7.
Songs for Saplings
(we will be using these songs for our Bible verse memory this year)
8. Hap Palmer-
Learning Basic Skills Through Music Vol. 1
,
Can a Cherry Pie Wave Goodbye?
I HIGHLY recommend all of these artists and welcome any others that you like. These are especially good for toddlers. The best thing to do is have fun with your little one. My son is already starting to plunk at the piano and pretend to sing. I sing to him all the time for fun times and quiet times. My recommendation is to get a list of songs that you sing to your child and sing them repeatedly. Eventually they will start to sing with you and get excited when you sing. My son sure does!!