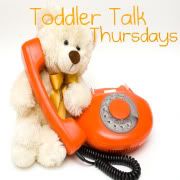 My son's favorite toy is the laundry basket full of animals. Basically he fills the empty basket with all his animals and pushes them around. Sometimes he gets in and we give him a ride. He will do this all day long.
Shrade's other favorite toy is his kitty!! He has a small one and a big one. He sleeps with the big one and it always stays in the crib and he plays with the small one and it goes on trips with us. Can't live without the KITTY!!
Here's a picture with a box. He loves boxes too. He will put things in them and carry them all over the house. He tries to sit in them too, even when he sees boxes in public places like the library!